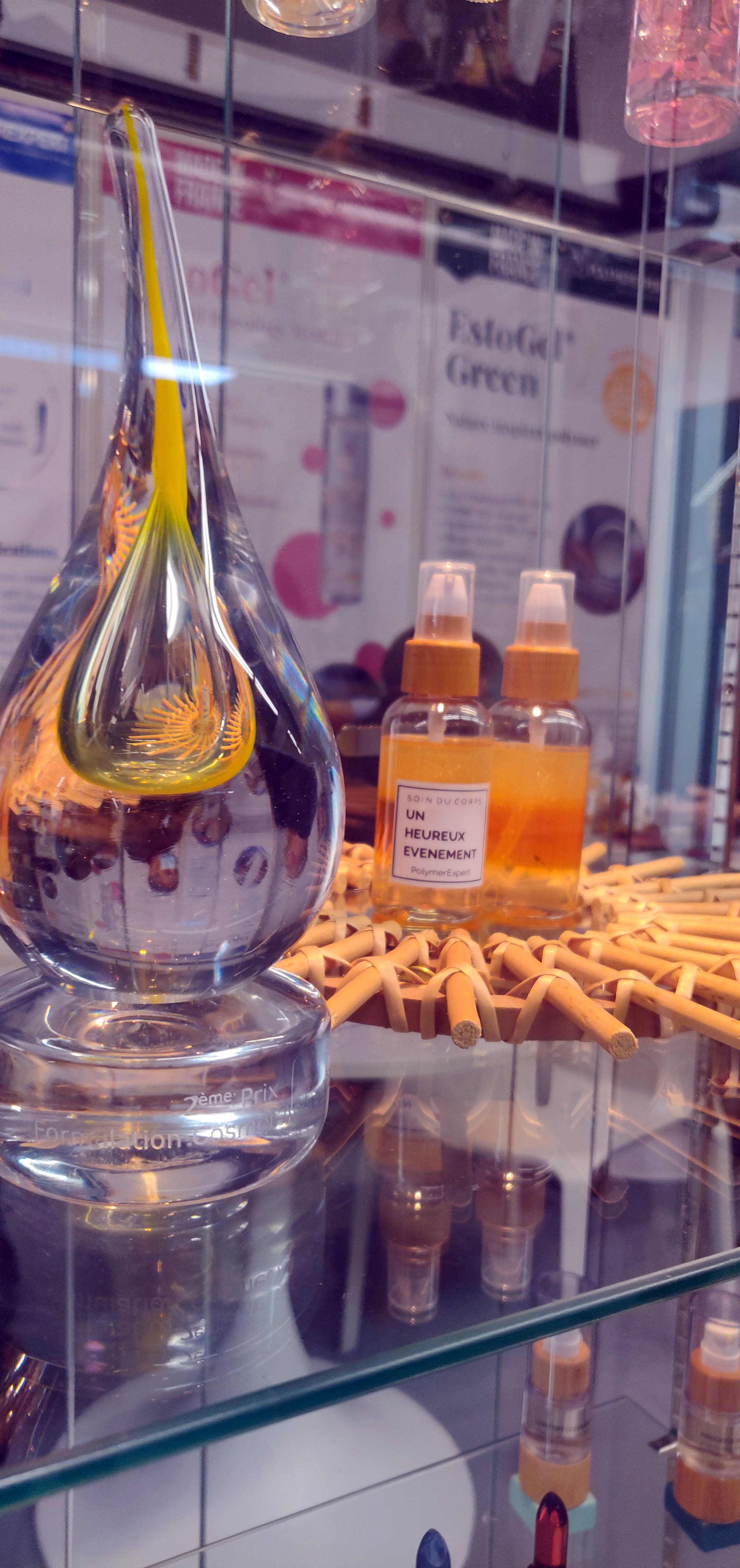 The jury of the Cosmet' Agora formulation contest awards PolymerExpert the second prize for its product "a happy event" formulated with EstoGel® Green, the new COSMOS approved 100% biobased oil phase rheology modifier.
The imposed theme was "happy cosmetics". PolymerExpert chose to formulate a toning body serum called "A happy event" that accompanies future mothers from the 2nd trimester of pregnancy to the first months after delivery.  This evolving treatment is a three-phase treatment, each containing just the right amount of active ingredients adapted to the body's changes.
This serum has been formulated with natural oils with nourishing properties. Its formula combines macadamia oil, known to improve skin elasticity, and rose hip oil, which helps prevent stretch marks. This complex of vegetable oils is completed by an extract of Brède Mafane which firms the skin.
2nd pregnancy trimester : The body begins to round out, the skin needs to gain in elasticity and hydration. The transparent phase helps prepare the skin for the first changes.
3rd pregnancy trimester : The first stretch marks start to appear. The skin needs to be moisturized and softened. The orange phase is enriched in restructuring active ingredients.
1st post pregnancy trimester : The skin is relaxed and lacks tone, it needs to be firmed up. The sparkling phase restores firmness to the body.
Could you imagine combining 3 miscible oil phases that do not mix in the same product?
This minimalist formula meets current formulation codes with 99.5% of ingredients of natural origin and no preservatives. Moreover, in an eco-responsible approach, only one packaging is necessary for 3 products. The sensoriality of the 3 phases has been worked on to be equivalent throughout the treatment. Only the quantities of active ingredients vary.
Thanks to the use of innovative gelling polymers of natural oils, we were able to form three transparent gels with suspensive and rheofluidifying properties.

About PolymerExpert :
Founded in 2000, PolymerExpert is a major player in specialty polymers. Since 2014, PolymerExpert has been working to develop new, environmentally friendly materials and ingredients. Building on the success of EMC30, which won the Bronze Award at In-Cosmetics 2019, PolymerExpert is continuing and directing its innovations towards naturalness to culminate in EstoGel® Green, awarded a Gold Cosmetiquemag Awards in the Ingredients of the Year 2021 category.